Trusted Name in Travel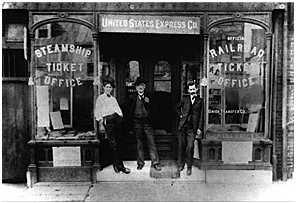 Rosenbluth was founded in 1892, eleven years before the Wright Brothers' famous first flight at Kitty Hawk, NC. Great Grandfather, Marcus Rosenbluth, met immigrants from Europe in New York and helped them travel throughout the United States.
For over 120 years and four generations, Rosenbluth has been assisting clients who want memorable and lifelong travel experiences. We say that "Experience really matters" and you can only get that by using people who have first-hand knowledge of the greatest destinations worldwide. Thank you for the opportunity to service your travel needs.
Cruises - Cruises - Cruises
Rosenbluth Vacations has been selling cruises for over 120 years. Our associates have the experience to offer you the best cruise for your budget and interests. Most of our cruises include special amenities (ie: shipboard credits) that help make Rosenbluth cruises different from our competitors. We have special offerings to the Caribbean, Alaska, Med, Cuba and other destinations so you have the maximum choices. Also ask about River Cruises, one of the newest ways to enjoy Europe. Please contact one of our associates to discuss plans for your next cruise vacation.
Rosenbluth Vacation Packages
Rosenbluth Vacations has the most experienced associates in the country for planning vacations worldwide, including Europe or the newest destination, Cuba. Our associates have been to the destinations that you are interested in and have many options to make your vacation memorable. Many of the hotels we use include special amenities (ie: Breakfast, spa credit) that you can't find with other agencies. Please contact one of our associates to plan your next vacation.
Our Internet Guarantee
It's Simple: We will guarantee you the same or better price from other Internet web sites for any cruise or vacation package. Internet pricing must be legitimate and verifiable through a written invoice of the other web site. Valid thru December 31, 2016 on new bookings. Why buy your vacation from a stranger when the most trusted name in travel is conveniently located near you?
Rosenbluth Vacations